WEDNESDAY
Adult Bible Study
7:00 pm
OTHER WEEKLY MINISTRIES
Care and Share Tuesday 9:30 am
Recently, we saw people boldly profess faith in Christ. How beautiful it is to see lives changed!
Sunday, February 6th, we will be having another Baptism Sunday. If you would like to be baptized or simply want to know more about baptism, call us at 321.254.8802 or email info@cbcmelbourne.org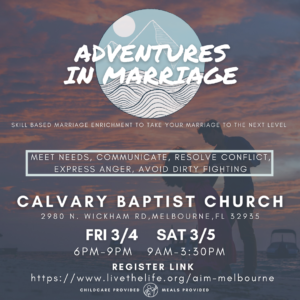 ADVENTURES IN MARRIAGE CONFERENCE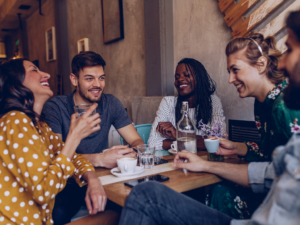 LOCATION:
2980 North Wickham Rd
Melbourne, FL 32935
PHONE:
EMAIL:
OFFICE HOURS: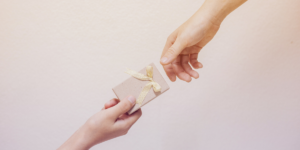 CALVARY BAPTIST CHURCH
CBC is a multifaceted ministry that reaches across southern Brevard county and the world. From rescuing men from drugs and alcohol to sheltering women and children. From ministering to the homosexual community to coming alongside the grieving and homeless. Calvary is able to minister because you give. We would love to give you the opportunity to be a part by contributing to what God is doing here at Calvary.
WORLDWIDE MISSIONS
With nearly 100 missionaries and mission works, Calvary Baptist Church extends around the world and at home. Through missions giving, Bibles are sent to Albania, wells are dug in Burkina Faso, Churches are planted in the Navajo Nation. Foreign and local ministries receive monthly support and special monetary gifts from CBC every year. Calvary's mission is the great commission and through your giving we can accomplish it together.
HOW TO GIVE?
– By Cash or Check via our offering boxes located in our lobby
– By texting "Give" to 321.204.2540