Welcome —
We are thrilled to invite you to be a part of some of the amazing things that God is doing here at Calvary Baptist Church. Our heart beat is to share the Gospel with our community, country, and world by living the abundant life God has promised in John 10:10 and making disciples as commanded in Matthew 28:19-20. We are so happy you are here.

Lead Pastor
Sergio Reyes

Family & Youth Pastor
Michael Alford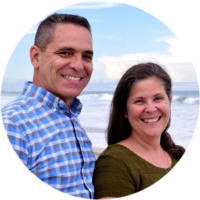 Spanish Pastor
Francisco Trujillo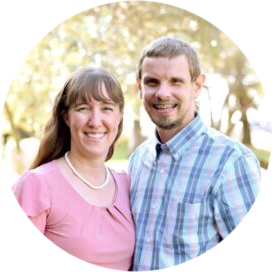 Children's Director
Ryan Gallaway

Minister of Admin
Paco Trujillo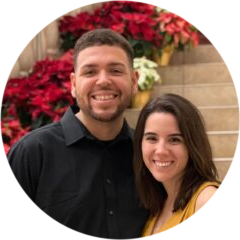 Minister of Worship
Joshua Auli
WEDNESDAY
Adult Bible Study
7:00 pm
Most couples do not know "how" to be married. Adventures in Marriage helps couples discover better ways to MEET NEEDS, COMMUNICATE, RESOLVE CONFLICT, EXPRESS ANGER, AVOID DIRTY FIGHTING and understand how their personality styles impact relationships for better or worse. Fun, practical, and easy to learn, Adventures in Marriage is appropriate for couples at ANY age or stage. The marriage communication program is designed to reach couples across the spectrum – from happy and highly motivated to struggling and highly stressed. Adventures in Marriage incorporates the latest research to provide specific, practical skills for a SUCCESSFUL MARRIAGE. According to a recent study by FLORIDA STATE UNIVERSITY, Adventures in Marriage is the most effective marriage program IN AMERICA. Come learn how to create the marriage you have always wanted with the spouse you already have!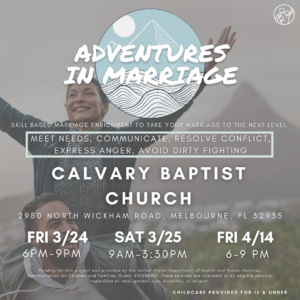 LOCATION:
2980 North Wickham Rd
Melbourne, FL 32935
PHONE:
EMAIL:
OFFICE HOURS:
CALVARY BAPTIST CHURCH
CBC is a multifaceted ministry that reaches across southern Brevard county and the world. From rescuing men from drugs and alcohol to sheltering women and children. From ministering to the homosexual community to coming alongside the grieving and homeless. Calvary is able to minister because you give. We would love to give you the opportunity to be a part by contributing to what God is doing here at Calvary.
WORLDWIDE MISSIONS
With nearly 100 missionaries and mission works, Calvary Baptist Church extends around the world and at home. Through missions giving, Bibles are sent to Albania, wells are dug in Burkina Faso, Churches are planted in the Navajo Nation. Foreign and local ministries receive monthly support and special monetary gifts from CBC every year. Calvary's mission is the great commission and through your giving we can accomplish it together.
HOW TO GIVE?
– By Cash or Check via our offering boxes located in our lobby
– By texting "Give" to 321.204.2540